Northeast High School
Class Of 1965
In Memory
Robert Atheney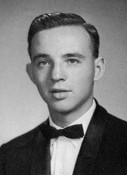 Bob passed away Monday, May 2, 2011. He is survived by his wife of 20 years, Jeanne Marie; his mother, Mary; sister, Barbara; sons, Joel and Jason; 8 grandchildren, 2 great-grandchildren and 3 step-children.
Memorial service is Saturday, May 7th at 1 pm at Anderson McQueen Funeral Home.
Contributions can be made to the American Diabetes Association.