Northeast High School
Class Of 1965
In Memory
Kenneth Pschorr (Faculty)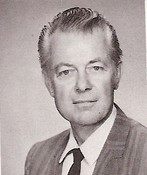 St. Petersburg Times (FL) - April 7, 2001
Deceased Name: PSCHORR, KENNETH W.
PSCHORR, KENNETH W., 77, of St. Petersburg, died Friday (April 6, 2001) at St. Anthony's Hospital. He received his teaching degree from St. Norbert's College in De Pere, Wis., and came here in 1949 from his native Green Bay, Wis. He taught anatomy and physiology at Northeast High School and retired in 1978. He was with the Pinellas County School System for 28 years. He served with the Army Air Forces in World War II. Survivors include his wife of 57 years, Florence A. "Flo"; a daughter, Sandra Holtan, Colgate, Wis.; two sisters, Laura Gaines and Virginia Burris, both of Hollywood, Calif.; three grandchildren; and one great-grandchild. Anderson-McQueen Funeral Homes & Cremation Tribute Center-McLeod Chapel, St. Petersburg.