Northeast High School
Class Of 1965
In Memory
Eugene Beeman (Faculty)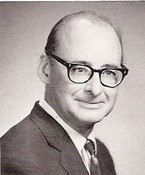 Deceased March 8, 1987, age 73.
One of the original members of the faculty at Northeast High School. Band director for 15 years.
Mr. B. died of a heart attack at Lake Seminole Hospital, Seminole, Fl. Heart problems lead to Mr. Beeman stepping down as band director in 1969, but he remained at Northeast as a teacher of English and head of the English Department untill his retirement in 1976.

IN 1961 "Mr B" was choosen by School Musician magazine as one of the 10 top directors in the country.

Born in Kansas City, Mo. Bachelor degree from KSTC and a Master of Ed degree from U of KC (now the U of Missouri @ KC). Came to St Pete in 1953.
After retirement he was minister of music at the Church By The Sea. He was married with 3 sons and a grandson. Burial services at Church By the Sea.